If you want to put your business in the best position possible to succeed, you need to use the right tools. One of the best options available is Microsoft Dynamics 365. There are a number of reasons why so many companies across multiple industries have fallen in love with this platform. It is easy to use, integrates with a wide variety of other Microsoft products, and contains a myriad of customizable features that you can use to meet your needs. At the same time, you need to work with a professional team that can help you get the most out of this asset. That's where Rangeline Solutions can be helpful. 
Our goal is to help you find the perfect ERP solution for your needs. We have a unique approach that starts with gathering requirements to gain a holistic understanding of the business and ensure a successful project. This step is important because it establishes a strong partnership with our clients. We understand that you may have been a part of multiple ERP implementations in the past which is why we leverage your knowledge and experience alongside our own to solidify the pieces needed to be successful in your implementation.  
Gather Insights From All Levels 
We start gathering insights from people at all levels of the organization. Everyone has a different way of looking at processes and goals, and no two companies are the same. In particular, we focus on subject matter experts, making sure we have all the information we need before pointing you in the right direction. 
Specifically, we want to figure out where the bottlenecks are located in your company and learn how siloed data affects your ability to meet your goals. We give everyone an opportunity to bring up issues that might be impacting their day-to-day operations. Then, we want to break down these silos to streamline the flow of information. 
The most important part of what we do is getting to the root of any problem rather than just fixing a symptom of a problem. We're focused on long-term solutions, not band-aids.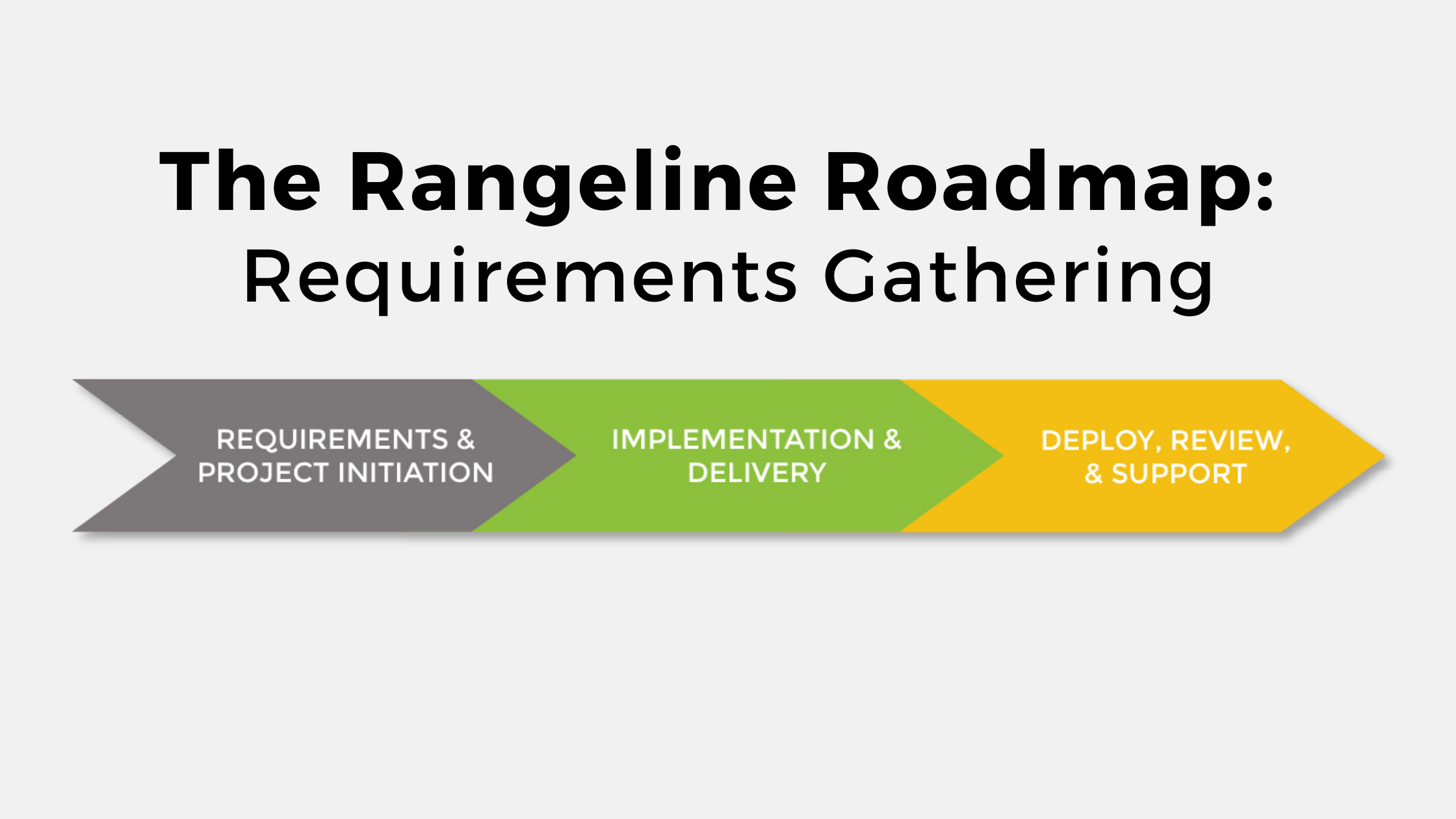 Technical and Functional Understanding 
A big part of our requirements gathering approach includes getting an in-depth understanding of technical and functional aspects of your business processes. One of the great things about working with Rangeline is the fact that we have experts in both areas.  
We have Microsoft experts who will work with you every step of the way, making sure to help you meet your needs. Then we also have dedicated project managers who are responsible for making sure everything runs smoothly. You never have to worry about who to talk to, and the Rangeline Solutions team will always be there to help. 
Project Plan Foundation 
As the project unfolds, client and partner decision-makers will be in charge of the rollout. There will be a clear set of roles and responsibilities so everyone is working toward one common goal. There will also be a dedicated chain of command, which will ensure that people know whom to contact if they have questions or concerns. We will work with you to clearly define the project scope for total transparency regarding your budget and timeline. We will do everything we can to stick to your budget without cutting corners in the implementation.  
Collaboration 
One of the unique facts that sets Rangeline Solutions apart from other companies in this industry is that we take a collaborative approach. Even though we bring the expertise you need for a successful project, it is ultimately still your project. We aren't going to ignore your needs, and we aren't going to simply bulldoze over what you already have. Even though you may have outgrown your current ERP system, we can help you implement a system that is specifically designed to last and meet your needs. 
We look at you as a true partner. We will not ask you to pay for something that you do not need, and we are always going to keep your best interests at heart. If you are looking for a partner that can help you implement the right ERP solution or system enhancements for your business, then you need to work with our team. 
Count on Rangeline Solutions 
Ultimately, there are many options available if you are looking for an ERP solution or system enhancements for your organization. At Rangeline Solutions, we will work with you to streamline the process on your behalf. Contact us today to learn more about how we can assist you. 
Get started today and contact us below!